Want a professional sensual & sexy Adult massage in London West end area? You can have it right here in Eros. Enjoy the healing benefits in a calm and peaceful setting at our special Erotic Massage. Let one of our friendly all-Oriental staff pamper you with her special skills just for you.
Take a look of our extremly erotic massage sessions in London West end area:
For discreet & safety, we only offer outcall service in West London.
West End Erotic Tantric massage
(£130/hour  incall to our parlour in Marylebone £100/hour )

Eros' Erotic Tantric massage is stimulating and relaxing at the same time and aims at awakening the senses, and channeling and releasing the sexual energy. It is, in essence, an erotic massage, which could incorporate some breathing or gazing exercises that strengthen the bond between the giver and the receiver and during the session all body areas are touched and caressed. When used as a part of the complete Tantric approach, it helps men and women accomplish higher material and spiritual goals, search for harmony and union, and reach equilibrium between the spiritual and the physical. When practiced between partners, the techniques could be used to spice up their physical relationship, add new dimension to their sex life, and help them become even closer.
West end Nuru Massage
(£150/hour  incall to our parlour in Marylebone £130/hour )

The word "nuru" comes from the Japanese language and it's meaning is "slippery". Eros' west end nuru massage uses a special oil which is made from deep seaweed and is colourless, tastless, and extremely slippery and smooth. The nuru oil is very cool and comfortable when you apply it to your skin, when getting a nuru massage the masseuse will rub your entire body with the nuru nuru and slide on you for a perfect Body to Body Massage.
West end Prostate Massage
(£120/hour  incall to our parlour in Marylebone £100/hour )
Prostate massage and prostate milking are terms used to describe the massage or stimulation of the prostate gland in males, either for medical or sexual purposes. The two terms are interchangeable, although "massage" is more frequently used when the purpose is relief of symptoms of chronic prostatitis, and "milking" when the purpose is the reduction of sexual activity or drive through removal of prostatic fluid.
More services & full service massage available. Please call us to discuss, we welcome all inquires!

When people refer to London's West End, they are talking about:
London's entertainment district around Leicester Square and Covent Garden
Shopping along Oxford Street, Regent Street, and Bond Street
The city centre area to the west of the historic City of London, within the City of Westminster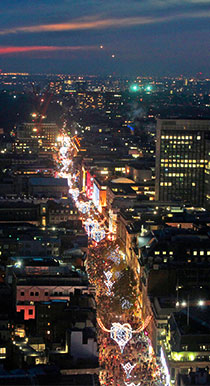 Travel to and around the West End
London's West End is a large area. You'll need to travel around by bus, Tube or taxi. Or, if you're feeling fit, on two wheels under the London Cycle Hire Scheme.
There are many underground stations around the West End. The major hotspots for exiting include Oxford Circus, Covent Garden, Piccadilly Circus and Leicester Square.
Hotels and Hostels in London's West End
(Eros offer outall adult massage in West End hotels)
Some of London's finest hotels can be found in the West End:
    One Aldwych
    Hilton Waldorf
    The London EDITION
    Café Royal
    St Martins Lane
    The Savoy
    Radisson Blu Edwardian Mercer Street Hotel
    The Trafalgar
    The Hampshire
    The Langham
    The Charing Cross Hotel
The West End caters to visitors on a budget as well. The Central London YHA hostel and LSE Grosvenor House's self-catering studio rooms offer great value for money in Central London.