Some of the client always ask us that How intimate is the massage? Can I touch the masseuse naked body? How do you achieve a state of intimacy within boundaries? Can I have sex during a massage?
In Eros Massage, we have many London erotic massage services available for client to choose from, each type has different kind of boundaries and level of intimacies…for nude massage, both you and you masseuse will be naked; for prostate massage, your masseuse will intimately massage your body, your lingam, and your anal and prostate…different sessions and different girls, that would make a huge difference of how each treatment goes and how your experience ending….
I use the term 'Erotic Massage' to define any massage whether it is a tantric massage, sensual massage or erotic massage, nuru massage session between client and our massage girls; I am not using it in an exclusive way. What I am trying to say is that you do not need to be feel guilty or to become 'john' or to consider yourself to be 'john' to have a sensual, erotic or tantric experience with a female masseuse, therefore neither a Erotic Massage.
By 'intimacy' we mean first the fact that the massage is performed in the nude and second that erogenous areas and genitals are included in any of the services.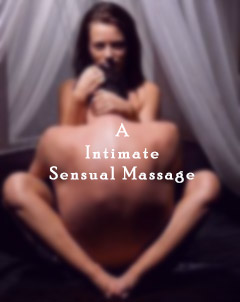 The only boundary during Erotic Massage service is respect. It is not about being allowed to touch the masseuse or not, it is more about the way this is done. During a sensual or erotic m4m massage, physical contact is normal and obviously part of the massage, but a client should bear in mind that what he is paying for is that physical proximity of a girl's nude body to his and the time of the masseuse, which depending on the service he chooses will be more or less time. Therefore, what a client is paying for is the proximity of a nude female body, the time of the masseuse and the manipulation of the erogenous areas and genitals, intimate parts of a body.
Intimacy during the Erotic Massage is not the same as intimacy between lovers or casual sexual partners. We are talking about emotional intimacy, during a sensual massage the male client is going to be nurtured by a female masseuse but it is not a sexual service.
One of the qualities for a sensual masseuse, especially when we talk about Tantric female masseuse, is compassion, and let's be clear I am not talking about the masseuse feeling pity or sorrow for her clients, but about the female masseuse being understanding, caring and open minded without judging her clients. We do not love our clients in the same way that we love our lovers. There is not a desire, there is not an expectation, but we are grateful to have the opportunity to make someone feel better about himself and explore his sexuality in a way he is not able to do with the person he is sharing his life with, due to his taboos or individual personal fantasies. That is our compassion for our client, to understand without judging, to accept without expecting anything more than respect and to care for their well being.
https://www.erosmassagelondon.com/wp-content/uploads/2017/04/sensual-intimate-massage.jpg
302
240
eros4u
/wp-content/uploads/2013/04/eros-logo6.png
eros4u
2017-04-22 12:51:46
2017-04-22 13:01:35
Erotic Massage at City of London - Art of Intimacy within boundaries