Winter is coming, the weather London is chilly and wet. If you want to have a HOT time in London's winter, the Eros Tantric massage could help you.
Now that you are ready to truly indulge and immerse yourself in tantric massage, relaxation and pleasure, the Goddesses will give you a flavour of the delicious tantric sensations and experiences we have in store for you. Tantric is not designed to be prescriptive so feel free to join us in being as creative, uninhibited and playful as you wish. Join us on the path towards mutual tantric sexual pleasure, exploration and intense enjoyment…
The London Tantric Massage
Awakening the senses – Tantra is about awakening our senses. If you've ever seen the film 'Nine and a half weeks' you will recall a scene in which the leading actress was blindfolded and fed by her lover while both were in a highly erotic state. In our loving, Tantric version of this, it is not only the sense of taste that is stimulated but all five senses. One by one we will tease and pleasure each of your senses, reviving and rejuvenating them…… Maybe we might even get you to lick some foods from our gorgeous bodies, your tongue relishing not only the delicacies we have provided but also our luscious Goddess tastes. Feel at the same time our soft gentle skin against your slowly lingering tongue. Or enjoy the sounds of our tantric pleasure as you do so. The possibilities here are endless and rewarding for God and Goddess alike!
Four handed (or breasted!) body massage – Touch is possibly one of the most under-rated human senses. Tantric massage enlivens our bodies and stirs our emotions. It can enable you to reach higher levels of physical and mental fulfilment and tantra massage can turn touch into an ecstatic experience.
As you relax into the tantric sensations surrounding you, we will massage you, not just with our hands, but with feathers, hair, silky materials and trail butterfly kisses across your body to bring you deepening levels of tantric sexual delight. We will immerse you in the warmth of our hands, stroking you erotically with slow, intimate tantric caresses, covering you gently with our bodies. We will teach you deep tantric breathing techniques that will help you relax and enable you to control your arousal and ejaculation, prolonging the tantric pleasures we have in store for you. It's quite possible that, as you fall deeper and deeper into a blissful state of relaxation and heaven, your Goddesses will stimulate you to an overwhelmingly powerful tantric sexual release, culminating in a total mind-blowing body orgasm, the like of which you may never have experienced before.
Orgasm control – Tantric love making is renowned for lasting long periods of time. Naturally to achieve this you require control and as Goddesses we can focus on teaching you this ancient tantric sex wisdom of ejaculation control, ensuring that you learn how to spread sexual energy throughout your entire body. Using several tantric techniques including gentle breathing, mind and muscle control, we will show you how to move the "kundalini", or sexual energy, onwards and upwards across your body, rather than experiencing it being released in one "quick" genital orgasm.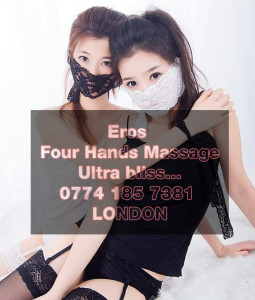 Full body orgasm – Tantrics are able to enjoy a "full body orgasm" which means the intense feelings associated with a genital orgasm are diffused throughout the entire body. Instead of the rapid sense of release that comes with ordinary orgasm, tantric sexual energy can undulate through your entire body in wave-like pulsations, ranging from slight to strong tremors. People often describe it as a kind of "melting" into themselves and their partner.
Prostate massage – The G-Spot or Sacred Spot of a man is his prostate gland. Tantric massage London philosophy considers the G-Spot a man's emotional sex centre. Massaging the man's prostate releases tremendous amounts of emotional and physical stress. Coupled with stimulation of his penis, massaging the prostate can be extremely pleasurable and healing to the man. The benefits are many and the pleasure can be very intense indeed!
Taking your leave – Rest assured that, by the time you leave the magical boudoir of our sexy masseuses, you will feel relaxed, rejuvenated, and pleasured beyond words. We are sure you will enjoy your first steps into the erotic world of Tantra and tantric sex and hope you will join us for further tantric sessions to enable you to practise and enhance the delicious tantric sensations you have just experienced, time after time after time…
Book your London Tantric Massage
Treat yourself today, visit on our massage parlours in London (Eros Marylebone massage, or Eros Mayfair Massage), meet our professional masseuse and enjoy the erotic or tantric massage services, have a warm winter with Eros.
/wp-content/uploads/2013/04/eros-logo6.png
0
0
eros4u
/wp-content/uploads/2013/04/eros-logo6.png
eros4u
2015-11-08 10:40:20
2016-05-04 15:07:01
London Tantric Massage: Hot Massage that Warm You Up