Four Hands Massage is very popular in London, 2 sexy masseuses use their hands , arms and even the whole body to massage you.  4hands massage not only just 'double the pleasure' but also more stimulating and more seductive. Each Eros Masseuses have different style and massage skills , by combine those massage skills (tantra, yoga , nuru…and more) you can enjoy a more creative and unique sensual massage….
Four Hands Massage in central London: base rate – 200 per hour
Four Hands Massage in Heathrow airport: base rate – 250 per hour
You can add any massage sessions to your 4hands massage package.
Simply call our switchboard on:  0774 185 7381

Overseas: 44 774 185 7381
We can delivery outcall 4 hands massage to your hotel or Home.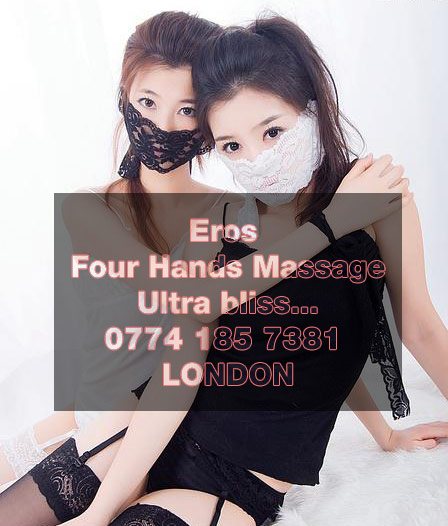 Our London 4hands Massage is the most popular service to relax by and with two masseuses. The two different masseuses will treat you at the same time, however, in different way.
The art of Double Bliss
Eros provides the most erotic method of massage called the Four Hands Massage, which involves two beautiful, trained in tantric science masseuses massaging at the same time. Each of the two masseuses works on separate parts of the body at the same time. Unwind yourself and escape from the daily chaos of life full of stress, anxiety and tension. Both the masseuses create a sensual atmosphere using candle and sacred oils with sensuous music playing in the background making the atmosphere perfect during the massage session.
Both of the beautiful masseuses roll their naked body drenched in scented oil over your body making you feel their warm tender skin which unwraps your desires for wanting more, helping you to hold your erection for longer for more pleasure before orgasm. This massage will not only relax and refresh your nerves but also sexually stimulate your organs, which will take you to the seventh heaven. Eros has received many positive comments from their customers who have already taken this session.
The couples who want to bring a difference to their intimate life and learn about the sensitive zones of their partner Tantric Massage is a must try. It's a heavenly feeling for both the partners to take their sexual life in a completely different level. It's very different than any other ordinary sexual feeling it makes you explore a whole new kind of exoticness. This art of Tantra teaches the fundamentals of passionate attraction between a man and his woman, both drowns in the erotic bliss enjoying each other's arousal.
The performance of London 4 Hands Massage
This massage gives you the choice to select the performance with or without Lingam Massage. The couple can have one or more masseuses performing the massage at your favorite location in London respecting full privacy of your identity.
The masseuses of Eros are there to nurture, love and heal you by their sensuous presence, delicate touch and tempting background music that will surround you with pleasure. They mix their massage style with full naked body to body strokes while moving your sensations throughout your body and mind. The best part is that you are invited to express your wants and desires during the massage session to make you experience the body and soul sensational healing in a more satisfying way.
The double bliss massage is the combination of sensuous massage with varieties of tantric principles. It's almost like an interactive session, and the client is indulged into participating and opening the heavenly gates to the ultimate destination of pure love. All these massage sessions come at attractive rates, and the customer can select any of these and add extra sessions at a very reasonable price. The best part is that the customer is free to choose any convenient place for the session.
Book a 4hands massage with Eros today, and your wonderful experience is about just 40mins away (incall / outcall London).