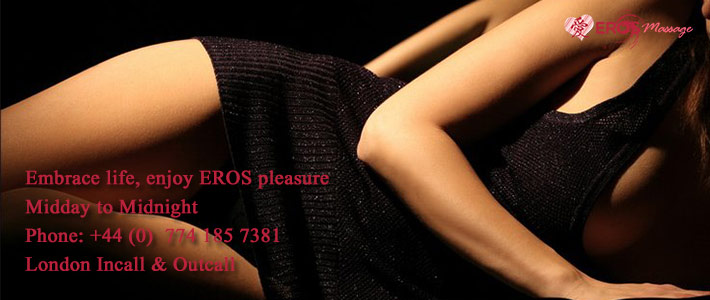 Eros erotic massage London invites you to enjoy the ancient art of relaxation. We are the best massage parlour in London dedicated to provide you with an erotic experience like no other and we have created a beautiful atmosphere to induce relaxation and a sense of detachment from the outside world. Tenderness and mystery is the unique combination offered by an exotic girl's touch.
Eros Erotic Massage London
While some self-conscious people may shy away from the prospect of a Erotic massage, it can be a superb way to blow off steam and relax. A normal massage focuses on taking the stress out of our muscles. Erotic tantra massage, however, takes this a step further and adds a sensual flair so making the massage experience more exciting. Erotic massage can be seen by some as a naughty thrill, however, it does have an overall positive effect on our emotional and mental wellbeing.
The human desire for intimacy is very deep seated. You can have most things you want in life yet still feel unfulfilled if you don't have someone with whom you are intimate. For those who seek intimacy and aren't getting this in traditional ways, Erotic massage can work wonders. It is a wonderful way to feel the intimate touch of another in a safe environment and will greatly improve your mood. It does this by releasing endorphins. When endorphins are released through intimate touch they create a happy state of mind which helps alleviate stress. So as well as receiving a sexy thrill, you will boost your state of mind.
Erotic massage London is also a great way for men to combat premature ejaculation. It can help a man to build up his tolerance to intimate touch, thus, allowing him to lead a happier, more fulfilling life.
The experience of a EROS erotic tantric massage in London will leave you feeling exceptionally recharged and invigorated.
These absolutely beautiful London Asian Masseuses purely provide a sexy, full sensual, erotic massage service. They are especially selected for their talent, skill and natural beauty.  They are all blessed with breathtakingly good looks and an innate sensuality. To heighten your sensual pleasure you have the option of booking two or even three Masseuses for your nude massage in London. Our exquisite Masseuses also offer this delectable nude massage to couples looking to take their relationship to a new provocative plateau.